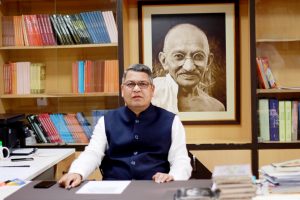 "It is not the answer that enlightens, but the question," said a French playwright. And so did our Upanishads, many centuries ago.
At Makhanlal Chaturvedi National University of Journalism and Communication, we strive to promote the idea of learning by creating an environment where questioning is welcomed. At India's first Journalism University, our endeavour is not only to produce scholars but hardcore journalists and socially committed media professionals who will take the country forward through their professional work.
The University was established in 1990 to promote excellence in journalism education with the broad objective to create a vibrant and inclusive society. In the last 29 years of our existence, we have produced some of the great names in media world including award winning journalist and editors.
We strive hard to impart quality education with equal mix of field experience to meet national and global challenges through our eight departments all related to media industry. To enable our students to become informed citizens and leaders of their profession, we encourage them to participate in co-curricular, extra curricular, and extension activities. We believe in giving exposure to our students instead of excessive focus on classroom activities.
Recognised by UGC, we have introduced Choice Based Credit System (CBCS) in all our undergraduate and postgraduate programs with multiple options of Media, Advertising, Mass Communication, Journalism, Management,
Computer Education and Research. Our programs are designed to ensure that students are ready with field skills and able to get placed in industry, right after completion of their courses.
With Outcome Based Learning modelled syllabus and the teachers focusing on qualitative aspect of the subject, we are pioneers in many ways. The University is adhering to student centric pedagogy. We promote participation of students in academic decision making so that feedback is synthesised in teaching-learning process. Keeping pace with changing trends of media technology, platforms and formats, we at our University have active collaboration with top journalists and field practitioners.
With constitution of India acting as the lighthouse, we are governed by the Act of Madhya Pradesh Legislative Assembly and a General Council, with the Chief Minister as its Chairman. The Vice-President of India is our Visitor. The vision of 'Idea of India' dreamt by the founding fathers of India forms the part of our core values. We respect, practise and teach pluralism in our syllabi and campus. Believing in the Gandhian thought, we allow and teach our pupils all prevalent ideologies and impart autonomy to enquire to form perspectives and imbibing cherished ideals. Welcome to the University named after the great freedom fighter, poet and journalist, Makhanlal Chaturvedi and engaged in learning to carve your potential.
Deepak Tiwari
Vice Chancellor