PROF (DR.) K G SURESH – A PROFILE
Vice Chancellor
Makhanlal Chaturvedi National University of Journalism & Communication

…………..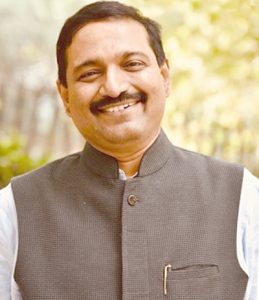 Prof. (Dr.) K G Suresh is a Senior Journalist, Columnist, Educationist, Socio Political Commentator & Communication Strategist. He is currently serving as Vice Chancellor, Makhanlal Chaturvedi National University of Journalism & Communication, Bhopal, Asia's first and India's oldest and largest media university.
Earlier, he has served as Director General, Indian Institute of Mass Communication – India's premier media training institution; Senior Consulting Editor with Doordarshan News, India's public news broadcaster; Founder Dean, School of Modern Media, University of Petroleum & Energy Studies (UPES), Dehradun; Editorial Consultant with Asianet News Network; Chief Political Correspondent with Press Trust of India and Group Media Advisor to Dalmia Bharat Enterprises Ltd.
He is a recipient of the prestigious Ganesh Shankar Vidyarthi Award for outstanding contribution to Journalism by the Kendriya Hindi Sansthan, Ministry of Education, Government of India. He was earlier designated Commonwealth Youth Ambassador for Peace by Commonwealth Youth Programme, Asia.
He is also the Founder President of the Global Media Education Council, the only India driven international academic platform.
A TEDx Speaker & Henry Stewart Talks faculty, Prof (Dr.) Suresh had successfully completed an Experiential Course in Public Health Communication from the University of Oxford, United Kingdom.
He is a Member of Board of Governors, Executive & Academic Councils and Boards of Studies of several universities.
He has been on the jury of several prestigious awards and fellowships including UNAOC, National Film Awards, UNICEF India, Ramnath Goenka Awards for Excellence in Media, Laadli Media Awards, Press Council of India, MP State Awards, Election Commission of India and PRSI National Awards.
Recognising his commitment to creating awareness on media literacy, the state Government of Madhya Pradesh nominated him as a Member of its Covid Advisory Committee, along with Nobel laureate Kailash Satyarthi and leading doctors and headed by the Chief Minister.
Prof. (Dr.) Suresh is a Member of the Governing Board of Consortium of Educational Communication, University Grants Commission;  Governing Body, Vigyan Prasar, Depatment of Science and Technology, Government of India; Awards Selection Committee & Co-Chair of Programme Advisory Committee of the National Council for Science and Technology Communication, Department of Science and Technology, Government of India.
He has also served as Emeritus Professor at the Jagran Lakecity University and Apeejay Institute of Mass Communication, New Delhi & Hony Professor with Apeejay Stya University, India's first liberal arts university.
Under his able leadership, the Makhanlal Chaturvedi National University was among the first institutions to roll out eight new programmes under the National Education Policy 2020 & shifted Bhopal and Rewa Campuses to brand new premises.
As DG, IIMC, Prof. (Dr.) Suresh gave a major push to Indian language journalism at the prestigious institute introducing Marathi and Malayalam Journalism from its Amravati, Maharashtra and Kottayam, Kerala campus respectively, besides upgrading the certificate programme in Urdu at Delhi campus to a full fledged Post Graduate Diploma Programme and launching an Advanced Certificate programme in Sanskrit Journalism. He also set up the Department of Indian Language Journalism apart from the Department of New Media.
It was during his tenure that IIMC built its own campuses in Kottayam, Kerala and Aizawl, Mizoram apart from acquiring land for its campuses in Jammu and Amravati, Maharashtra. Prime Minister Sh Narendra Modi had laid the Foundation stone for the Jammu campus.
Due to his untiring efforts, IIMC obtained a Letter of Intent from UGC for a 'Deemed to be University' status under the 'De Novo' category.
His other major initiatives included establishment of the Community Radio Empowerment & Resource Centre at IIMC with a view to promote Community Radio Stations in India and the National Media Faculty Development Centre for training and skill upgradation of media educators across India. He is also credited with reviving IIMC's peer reviewed quarterly journal 'Communicator' and its Hindi version 'Sanchar Madhyam' as also the publication wing of the institute besides co-hosting the prestigious 15th Asia Media Summit in New Delhi & hosting the 17th Indian Science Communication Congress at IIMC in December 2017 and first ever inter-University youth festival 'Media Mahakumbh' at IIMC in Feb 2018.
As Senior Consulting Editor with Doordarshan News, Prof. (Dr.) Suresh played a pivotal role in introducing innovative programmes including Speed News, Vaartavali- The world's first Sanskrit Television News Magazine, Good News India – positive news from across the country, India First – A strategy and defence based programme and 'Do Touk' – a political debating platform, besides DD's first android enabled App.
Serving PTI in different capacities for over a decade including as Chief Crime Reporter, Deputy Chief Reporter, Special Correspondent and Chief Political Correspondent, Prof. (Dr.) Suresh has travelled across India and the world to cover developments including the Royal Palace Massacre in Nepal, BJP leader L K Advani's controversial visit to Pakistan, the post Taliban situation in Afghanistan, the cyclone, earthquake and violence in Gujarat, militancy in Kashmir apart from Lok Sabha and State Assembly elections. He has also covered both Houses of Parliament extensively.
A media educator since his media days, Prof. (Dr.) Suresh has served as Visiting Professor/Course In Charge for Communication Skills at the Special Centre for Disaster Research at Jawaharlal Nehru University, Adjunct Professor with the Academy of Scientific & Innovative Research, an institution of National Importance established by an act of Parliament. He has also served as Adjunct Professor at the Makhanlal Chaturvedi National University of Journalism & Communication, Visiting Professor with the Delhi Institute of Heritage Research and Management, run by Govt of NCT Delhi and Visiting Faculty at the Sardar Patel College of Communications and Management, Bharatiya Vidya Bhavan, New Delhi.
He is a Resource Person for the Training Programmes at Indian Institute of Public Administration; Consortium for Educational Communication, UGC; Centre for Professional Development in Higher Education, Delhi University; National Institute of Disaster Management, National Academy of Broadcasting and Multimedia (Prasar Bharati), Indira Gandhi National Forest Academy, Indian Aviation Academy & Research and Information System for Developing Countries (RIS), a think tank of the Ministry of External Affairs, Govt of India and Indira Gandhi National Centre for Arts and Culture.
With a rich professional cross media experience of over three decades, Prof. (Dr.) Suresh is the recipient of Prem Bhatia Fellowship for Research in Media by Young Journalists.
In December 2017, Prof. (Dr.) Suresh was conferred with the PRSI Leadership Award, the highest Award for outstanding contribution to the Public Relations profession, at the 39th All India Public Relations Conference at Visakhapatnam, Andhra Pradesh. He has also been honoured with the Visionary Leader in Media Education Award instituted by Business World Magazine & Exchange4media in November 2018; the first Khwaja Gareeb Nawaz Award for Unity, Brotherhood & Communal Harmony Lifetime Achievement Award for contribution in the field of Media Education by NISCORT Media School & Eureka Publications, apart from Kashi Samman at Kashi Varanasi Sahitya Mahotsva.
Prof. (Dr.) Suresh was a Member of the prestigious feature film jury & non-fiction jury of Indian Panorama 2018 & 2017 respectively for the International Film Festival of India, headed by well-known film makers Rahul Rawail & Sudhir Mishra, Feature film section of National Film Awards Jury 2017 headed by noted film maker Priyadarshan and the Chairman of its Northern Regional Jury. He was Editor-in-Chief and Member of the International Jury for the Media Colloquium at the prestigious Delhi Sustainable Development Summit -2015, and the only journalist to represent India at the World Media Conference in Seoul in March 2015, organized by leading US daily, The Washington Times. Prof. (Dr.) Suresh was on the international jury for the Plural+ International Youth Video Festival 2012, organised by the United Nations Alliance of Civilizations and the International Organisation for Migration. He was the first Indian to be nominated as a jury since the inception of the festival in 2009.
He has served as Chairman, Review Committee for the 10th edition of National Science Film Festival of India (NSFFI) & Chairman (Environment category), Prakriti film festival 2020 organized by Consortium for Educational Communication, UGC, Govt of India.
Prof. (Dr.) Suresh chaired the international jury of the 4th Woodpecker International Film Festival-2016, India's premier festival focusing on issue-based cinema and the jury of the 13th edition of the We Care International Film Festival on disability issues 2016. He was on the jury of the of the National Media Award 2016 & 2018 instituted by Election Commission of India, CMS-UNICEF Media Fellowship-2016, the National Awards for Excellence in Journalism instituted by the Press Council of India, the UNICEF Radio4child awards 2016 & 2018, Public Relations Society of India National Awards-2016, the prestigious Laadli Media and Advertising Award for Gender Sensitivity 2014-15, 2015-16 and 2020-21 organized by Population First and the SCOPE Corporate Communication Excellence Awards 2017 & 2019.
Prof. (Dr.) Suresh has addressed national and international conferences including the prestigious Jhabarmal Annual Lecture organized by Rajasthan Patrika, January 2018, the state level National Press Day lecture organized by Government of Assam at Silchar, November 2019, the Sat Paul Sahni Memorial Lecture organized by the Indian Institute of Public Administration in January 2017, the Anna Endowment Lecture at Anna University, Chennai,  in January 2019; Indian Youth Parliament, Jaipur 2017 and Jaipur Youth Festival 2018, International Co-Production Conference at Seoul, South Korea, June 2018, organized by the Korea Communication Commission, the 3rd National Teachers' Congress at MIT World Peace University, Pune in January 2019.
International Conference on RTI Sri Lanka and Media Reforms, Colombo, Sep 2016; 15th Asian Media Summit, New Delhi; keynote address on human rights at the LAWASIA International Conference in New Delhi, the Battle of Ideas panel discussion organized by the UK-based Institute of Ideas and the British Council India, the Media Educators Roundtable organized by ABP Education in June 2020, the India-Japan Global Partnership Summit in Tokyo, September 2011, the Fourth Forum of the United Nations Alliance of Civilizations (UNAOC) at Doha, Qatar in December 2011, the Fifth Forum of UNAOC at Vienna, Austria, Asian Youth Leaders' Summit, New Delhi, October 2013, 16th World Sanskrit Conference, Bangkok, June 2015 & World Hindi Conference, Mauritius 2018 besides chairing the session on 'Public Policy and Well Being' under the aegis of ICSSR and University of Lausanne at Basel, Switzerland, September 2017, the Fourth National Conference on Media & Journalism, June, November 12, 2022 & Second National Media Dialogue, Gurugram University, April, 2023.
In June 2021, Prof. (Dr.) Suresh conducted an Indo Greek workshop supported by the US State Department on misinformation and disinformation.
He has extensively travelled across India and the world including Afghanistan, Pakistan, China, Nepal, Sri Lanka, Indonesia, South Korea, Japan, United Kingdom, Switzerland, Austria, Hungary, Qatar, Mauritius, South Africa among others.